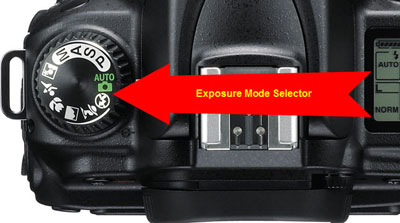 So you you have been plugging along with your D90 in AUTO mode since the day you took it out of the box. They only time you ever rotate the exposure selector is when you inadvertently switch it or someone else messes with the camera when your not looking. Well Im here to tell you to fear not. You will not break anything if you rotate it. The worse thing that will happen is a bad picture. In fact when you are done at this site you just may never use the AUTO exposure mode again
There are 11 possible exposure settings to choose from on the selector.
Auto
Auto without flash
Portrait
Landscape
Macro
Action
Night portrait
Manual
Aperture Priority
Shutter Priority
Program
Now I know what your thinking. There's hints in some of those titles as to where the settings might be used. Well you are correct. The first seven modes are essentially presets that Nikon named "Scene Modes". These presets utilize settings determined by Nikon engineers to give decent image results in most conditions. I think its worth while for a quick rundown of whats actually happening in these first seven exposure modes. Later when we get to the remaining four exposure modes the principles discussed in these earlier posts will help you understand the more advanced exposure modes.