JTL SL-500 Everlight Soft box  Kit #91504
My use for this soft box kit is to take pictures of outdoor products for my websites and blogs when I cant get out side, and this is one of the best deals going in soft boxes. I bought the JTL SL-500 EVERLIGHT SOFTBOX KIT #91504  from Amazon at about 1/3 the price I have seen it elsewhere.
The kit includes:
JTL #2524-1 24″x24″ soft box
JTL #2817 Everlight Body
JTL#2815  3200K H.Q. Bulb, 500W
JTL #5018  750 71/2 foot Air Cushioned Light Stand
JTL #2703 3-Pin Soft Box Connector
The soft box is well made and easy to assemble.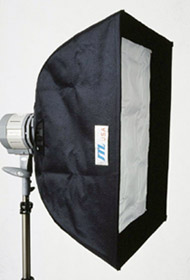 The JTL #2817 Everlight Body is light weight yet well made. Its simple unit that features a power switch, fuse holder, tripod mount and adapter locking screw.
Here's what the manufacture states about the Everlight Kit:
The Everlight Kit is a completely self-contained photo studio suitable for, but not limited to, TV interviews, commercial videography, digital portraits, and family portraits. The kit is composed of three ultra-silent lights with 500W(3000K) or 1000W(3200K) self-focused quartz bulbs, heat-resistant soft boxes, compact air-cushioned stands, and a foam-padded carrying case. The entire kit can be stored and transported in one carrying case, and set up takes mere minutes- just add a digital camera or camcorder and you are ready to make professional looking photos and tapes.
In the Studio:
Upon receiving this unit I was please to notice that the included bulb was an JTL #2814 750 watt bulb rather than the #2815 advertised. I wont complain.
Assembly is quick and easy. I didn't find the instructions necessary. The unit is very well made considering it's country of origin and it's price point. My first experience with this kit was for shooting some military gear. I set the unit up about 6 feet in the air and aimed the soft box about 60 degrees towards the table where the subjects of the shoot were positioned. I turned on the light, made some slight adjustments to the light stand and everything looked great. Next I set the white balance of my Nikon D90 with an ExpoImaging ExpoDisc White Balance Filter. I then proceeded to take some of the best product images that I have ever taken. I was quite please.
In the Studio Part 2:
I was given the opportunity to shoot some highly collectable one of a kind Custom Colt 1911 Pistols.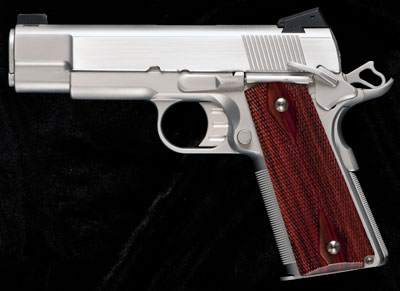 After about 15 minutes into the shoot the light turned off by itself. I feared the worse. I feared that perhaps the fuse or light bulb had blown and I was without spares. After a few minutes of troubleshooting I determined that the power switch was faulty. I was able to get the light going pretty easy by pushing the switch while rocking it. I was able to finish the shoot even though the light turned off a few more times throughout the evening.
JTL Customer Service:
When I got home that evening I visited the JTL website and found a support email address. I composed my email not really expecting a response. The following morning I was pleasantly surprised with an email from Sal in JTL customer service.  He emailed me a form and return number and stated that I would get the unit back pretty quick repaired at no charge. I sent the Everlight out as instructed and what was probably a week to the day the unit was back in my hands and functioning properly.  Excellent service to put it mildly.
Conclusion:
To date I have probably used the JTL SL-500 Everlight Soft Box  Kit about a dozen times with great result. I cant recommend this kit enough. Now with days getting shorter it will be getting more use.
Note on Safety:
Halogen lights give of a lot of heat. Be careful when handling the light. Do not move the unit while lit, do not touch the bulb and do not leave it turned on and unattended.