Sekonic Litemaster Pro L-478DR-U-EL Exposure Meter
I wont start this post by saying I have bad luck. That is not this case. I just rarely have good luck. I don't find money, I don't win on lottery tickets and when I buy something it usually shows up cheaper shortly thereafter. Well for once I can say i was lucky and the good luck is the subject of today's post the Sekonic Litemaster Pro L-478DR-U-EL exposure meter.
About two years ago I purchased the standard model L-478 and it was a game changer for getting proper exposure of my pictures. Life was good. Fast forward to last year when I decided to bite the bullet and buy a real studio strobe in the form of an Elinchrom D-Lite RX-4. I found the D-Lite RX-4 to provide great results but my control was limited to using a pc sync cord connected to my Nikon D810. I found myself at a crossroads with studio lighting. I was heavily invested in the Nikon CLS but it's proprietary system does not work with non Nikon flashes. There are third party trigger controls like pocket Wizard, RadioPopper and a bunch of inexpensive knockoffs. I finally decided I would head down the path of Pocket Wizard as it was the most common radio trigger brand. Now up until this point I had basically ruled out Elinchrom's own radio trigger system referred to as EL Skyport. This was because it was becoming a dated system. Then something changed. Elinchrom updated the line. Elinchrom Skyport became a cross between Nikon CLS and Pocket Wizard. With the purchase of a EL- Skyport Plus HS transmitter I could communicate with my D-Lite RX-4. The EL- Skyport Plus HS is the Elinchrom equivalent of the Nikon SU-800 Commander with a big improvement. If I also purchase an Elinchrom EL-Skyport Receiver Plus for Nikon I could also trigger my Nikon Speedlights. This was huge for me. I was now on the path to officially adopt Elinchrom Skyport to radio trigger all of my flashes. What does all this have to do with the Sekonic Litemaster Pro L-478DR-U-EL? Keep reading.
Right about the time I made the decision to switch to Skyport radio triggering Sekonic announced an Elinchrom version of the L-478 that had been upgraded to fire Elinchrom strobes.This was about an ideal solution to exposure as I could dream for. The problem was I had the year old standard L-478 that cost me $400. I simply couldn't justify another $400. While I briefly thought of selling the L-478 I knew I would procrastinate and never follow through. Then something happened, I got lucky. A friend was visiting and we were discussing all that I wrote above and I went to Amazon to show him the Elinchrom version of the L-478 and what do my eyes see? It's on sale for $299 and thats $100 less expensive than all the other versions of the L-478. I bought it.
So now your thinking "What the heck will he do with two exposure meters?". That's the best part of it all. I can leave the Skyport version of the Sekonic in my studio and the regular L-478 can stay in my camera bag. I have further refined my setup that the Nikon speedlights and the CLS will be my portable setup and I will continue adding Elinchrom strobes with their built in Skyport receivers to my studio setup.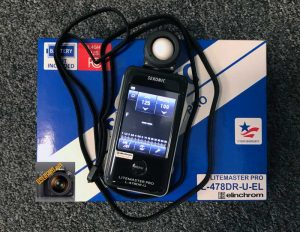 LiteMaster Pro L-478DR-U-EL
Sekonic's LITEMASTER PRO L-478-Series meters are the world's first touch-screen-operated light meters. They have an array of unique, must-have features for both still and motion story tellers. Their compact size is both instantly familiar and comfortable to use. A large LCD (2.7″) displays ambient, flash, cine and a host of other information in a clear and understandable way. Settings are made by simply touching or sliding a finger over the screen.
The L-478 meters can be quickly calibrated to your camera using Sekonic's Data Transfer software and either Sekonic or X-Rite Brand targets or by manually inputting data to the DTS program or on the meter itself.
Keeping pace with wireless advancements, the L-478DR-U-EL comes complete with exclusive Elinchrom Skyport technology which combines light measurement and flash power control providing amazing control in your hand.
The L-478DR-U-EL has a radio module and antenna built into the meter. The system transmits at 2.4GHz and uses signal protocols that are unique to Elinchrom's Skyport wireless triggering/control system.
The L-478 series meters offer the following languages in the interface: Japanese, English and Chinese. Depending on the country where the meter is purchased, the language is fixed and cannot be changed by the user.
Sekonic L-478DR-EL Series LiteMaster Pro Start Up Guide: English
Sekonic L-478DR-EL Series LiteMaster Pro Instruction Manual: English
Amazing Must-Have Features

For Still Photographers:
Full featured Ambient-Flash modes including new T-F mode.
Measure, compare, and mix ambient and flash displayed on a color, touch screen for beautiful, controlled, results.
DTS Exposure Profiling matches the meter to the performance of your camera.
Precise exposure and lighting starts with precise, repeatable metering.
Radio triggering and Flash Power Setting w/Elincrhom flashes with Skyport receivers .
Flash Group selection and power control with a touch of a finger.
For Filmmakers:
Cine/HD Cine modes for today's HDSLR and Video Cine cameras.
Effortlessly switch between HDSLR and Cine for exact exposure settings in exact increments for both.
Infinite frame rate and shutter angle selection.
Create special settings for special applications.Video cine cameras are becoming boundless. Metering should be too.
Unique, light-source filtration compensation mode.
Finally, precise control lighting using industry standard CTO/CTB/ND types at the touch of a finger.
Illumination measurement and extended ISO range.
Lighting design and exposure in a single tool. ISO and exposure settings to match today's digital cameras.
LiteMaster Pro L-478DR-U-EL – Technical Specifications
| | |
| --- | --- |
| Packaging Weight | 0.77 lb. (0,35 kg) |
| Packaging Dimensions | 8.26″ L x 5.82″ W x 1.96″ H (21cm x 14.8cm x 5cm) |
| Receptor Head | Incident light and reflected light |
| Light Receiving Method | Incident light and reflected light |
| Receptor Incident Light | Convertible to flat diffuser (Lumisphere in retracted position) |
| Receptor Reflected Light | 5° spot with optional viewfinder |
| Flash Analyzing Function | 0 to 100% in 10% increments |
| Multiple Flash Function | Infinite number of flash readings (Only one digit is displayed when the cumulated number is ten or more) |
| Calibration Compensation | (+/-) 1.0 EV (in 1/10 stops) |
| Exposure Compensation | (+/-) 9.9 EV (in 1/10 stops) |
| Custom Functions | 14 custom functions |
| Auto Power Off | Selectable in Custom Functions |
Measuring Range and Modes
| | |
| --- | --- |
| Measuring Modes Ambient Light | Aperture priority, Shutter speed priority, TF priority, CINE, HD Cine, Illuminance (lx/fc), Luminance (cdm2/fl) |
| Measuring Modes Flash | Cord (PC), Cordless, Radio Triggering (with/without mulitple cumulative) |
| Measuring Range (ISO 100) Flash | 0.63 to 2,000,000 lux – 0.10 to 180,000 fc |
| Measuring Range Brightness | 0.25 to 190,000 cd/m2 – 0.10 to 190,000 foot lamberts |
Display Range and Modes
| | |
| --- | --- |
| Display Range Film Speed | ISO 3 to 409,600 (in 1/3 stops) |
| Display Range Shutter Speeds Ambient | 31 min. to 1/64,000 sec. plus 1/200, 1/400 sec (in 1, 1/2 and 1/3 stops) |
| Display Range Shutter Speeds Flash | 31 min. to 1/1000 sec plus 1/75, 1/80, 1/90, 1/100, 1/200, 1/400 |
| Display Range Aperture | f/0.5 to f/161.2 (in 1, 1/2 and 1/3 stops) |
| Display Range EV | EV-27.9 to EV55.8 (with Incident light reading of ambient light) |
| Display Range Cine Speeds fps | 2 to 1000 f/s, plus user created settings: 20 entries |
| Display Range Shutter Angle | 1°to 358°, plus user created settings: 20 entries |
Other
| | |
| --- | --- |
| Battery(Power): | 3 Type AA 1.5V Batteries Alkaline, Manganese, Lithium, Nickel Hydride, Nickel Based |
| Battery Power Indicator Display: | Icon with 3 status |
Radio Triggering
| | |
| --- | --- |
| Radio Triggering System: | Elinchrom Skyport |
| Frequency: | 2.4GHz |
| Triggering Range: | Up to 100 feet, Transmitter-Receiver |
| Frequencies/Groups: | Normal: 20 Frequencies / 4 Groups |