IPHONE LIGHT METER APPS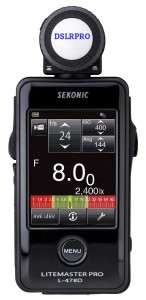 Subject: iPHONE LIGHT METER APPS. As photography skills develop, improve and grow so does the list of tools and accessories you need grow. This is typical of most hobbies and professions. One such tool I have have been using extensively over the past year is a SEKONIC LIGHT METER 401-478 LITEMASTER PRO L-478D. I have come to rely on the Sekonic both in my home studio and in the field. The LIGHT METER has has greatly improved my ability to get properly exposed images right from the start. My NIKON D810 does a pretty good job with exposure compared to other DSLR's but it's built in LIGHT METER is just not as good or versatile as an off camera LIGHT METER.
Recently I was explaining the virtues of my Sekonic to a friend with limited funds. That got me thinking that there must be a light meter for smart phones and sure enough there is. I ended up purchasing the iPHONE LIGHT METER APPS listed below.
The apps are not meant as a replacement for a real LIGHT METER but they will get you started on your way. Try them out and thank me later.
---
IPHONE LIGHT METER APPS:
myLightMeter PRO iPhone Light Meter App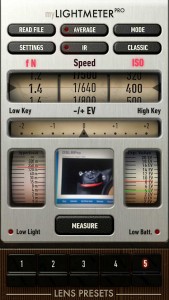 myLightMeter PRO iPhone light meter was designed by a photographer for photographers, focused on RELIABILITY and PRECISION for digital and analog photography.
Extended sensibility as low as -2/-4EV (dark scenes)
Two different convenient interface designs.
Incident and reflected light metering modes.
Independent calibration for the two metering modes.
Independent selection of aperture, speed, ISO and exposure compensation with 1/3 resolution. From 4 minutes to 1/8000 sec., aperture from 1.0 to 512 and iso from 3 to 6400.
Automatic priority for aperture or speed. (Automatic Av and Tv modes).
Automatic ISO or locked ISO options.
Spot metering and zoomed camera view.
Maximum aperture limited by the selected lens.
Calculate the average of any number of measurements you want.
Read the exposure data of any photo from the gallery.
Calculate hyperfocal distance for 5 memorized lenses. Which also blocks maximum aperture.
Memory for 5 lenses with maximum aperture, focal length and film/sensor size for calculating hyperfocal distance and aperture.
Hyperfocal distance also for infrared light. (IR button)
Exposure value EV on an analog scale or right up front.
Two LED indicators show whether the measurement is unreliable due to lack of light in the scene, or if we have under 30% battery left.
On 3.5 " displays preset lens buttons tilting the device or tapping at the bottom.
Screen help available touching Lightmeter PRO
myLightMeter PRO Classic Mode IPhone Light Meter App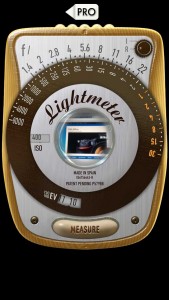 This is the alternative analog mode of myLightMeter PRO. It's very easy to use in this mode once you realize the fstop simply corresponds to the shutter speed. Set your ISO and select your desired fstop and Shutter Speed combination.
---
ilightmeter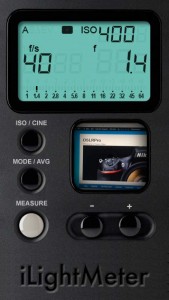 ilightmeter iPhone Light Meter App: iLightMeter is a reflected light meter for iPhone and iPad. iLightMeter measures exposure with f-number or speed priority, averaging the whole scene or in spot mode. It Includes CINE mode to visualize shutter frame rates. The dEV mode measure the under/over exposure with respect to the selected speed and f-number.
ISO, f-number and speed ranges are: ISO: from 6 to 3200 in step of 1/3EV, f-number: from f1 to f64 in step of 1/3EV
Speed: from 1/8000 to 30″ from 2f/s to 360f/s in CINE mode in step of 1EV
BUTTONS
ISO/CINE: Tap and release to set the ISO value. The ISO text on the display blinks, and the + and – buttons are used to set the desired value. Tap and hold for 1/2 second to toggle between normal and CINE mode.
MODE/AVG: Tap and release to se the exposure mode between A (f-number priority), S (speed priority) and dEV (under/over exposure). Tap and hold for 1/2 second to toggle between average (a filled rectangle is shown in the LCD display) and spot (a rectangle with a dot is shown in the LCD display).
MEASURE:Â  Tap to make a measure. – and +: decrement or increment either ISO, f-number or speed depending on the selected mode.
AVERAGE: When a filled rectangle is shown at the right of the ISO text in the LCD, the exposure is calculated as average of the whole photo.
SPOT: When a rectangle with a center dot is shown at the right of the ISO text in the LCD, the exposure is calculated for the area inside the circle.
MODE A: In f-number priority, buttons – and + set the f-number, and the speed is calculated.
MODE S: In Speed priority, buttons – and + set the speed, and the f-number is calculated.
MODE dEV: In dEV mode, the under/over exposure is calculated (in step of 1/3EV) with respect to the selected speed/f-number.
Buttons – and + changes between pairs of speed/f-number with equal EV.
Tap on the image to display the spot measurement of that zone (iLightMeter HD only)
---
How do you use a light meter?
There is plenty of info on the internet and getting technically detailed is not what this site is about but basically you set the LIGHT METER to the same operation mode as your camera, ISO, Shutter Priority (time), Aperture Priority (f stop ) and Manual modes. The user than looks through the app and presses the "Measure" Button. The app will then present you with the settings for proper exposure. Changing a setting like ISO will recalculate the other relevant settings. It's super easy and intuitive.
I have also found playing with a tool like this helps folks get a better understanding of the relationship of Shutter Speed, f stop and ISO.