Mola Demi Beauty Dish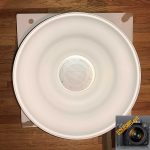 As part of our ongoing Beauty Dish series the 22″ Demi softlight from Mola was the first purchase. According to most reviews Mola Softlights are highly regarded and considered the best beauty dishes! The Mola Softlights are also some of the most expensive. Not having anything to compare the 22″ Demi to I also ordered the closest Elinchrom Beauty Dish match at 17″. While at the time of writing this all I can compare with the beauty dishes is build quality. The Mola is top notch. In fact the only criticisms I have at this point is the price and the instructions. The Demi might be way out of the price range of the folks who visit this site. Fear not, Amazon has dozens of less expensive brands. In the future we will sample those as well.
---
The Mola Demi Beauty Dish 22 inch reflector has a unique patented design that captures and focuses light with maximum efficiency. It is shaped to intercept all paths of light, no matter which direction they leave the flash tube, and redirect them toward the subject. This is a big improvement on most square boxlights, which can only focus a portion of the light available.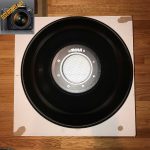 This is the Demi, 22″ model with a white reflective surface. Its size is perfect for portraits, and mounts to your strobe head via your Chimera, Photoflex, or other brand Speed Ring Insert
About Mola Demi 22″ Softlight Beauty Dish
MOLA DEMI 22″- 55CM WHITE INTERIOR – Among the crowded field of soft light beauty dishes the Mola Demi white is the international standard bearer. It's contrast, directional nature, build and quality of light make it a must have multi purpose modifier for discerning photographers around the world. Perfect for beauty, fashion, head shots, portraits and location work. The Mola Demi's undulating design distinguishes it from competitors by providing a unique quality of light, clarity, heightened shape and directional illumination
Mola Demi 22″ Softlight Features
The Mola Demi (22.0″) is a scaled down version of the Euro in every respect. The Demi is a perfect companion on location from corporate portraits to beauty, or in the studio as a main light or companion fill light for the Euro or Mantti.
Mola Demi Assembly Instruction Video
The Mola Demi creates an even core of light surrounded by a smoothly graduated feathered edge, about a half a stop difference from the center to outer edge.