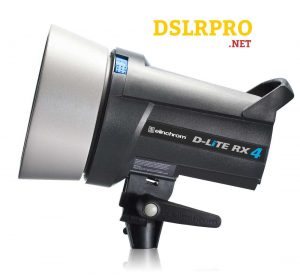 I have been using a Elinchrom D-Lite RX 4 Studio Flash for two years now. It's been a game changer in my home studio. The D-Lite RX4 is powerful, well made, easy to program and use. I use it as my primary flash with the PC Sync cable for photographing sporting goods for websites. I use the Nikon speedlights as slaves until I an afford additional D-Lites.
Elinchrom D-Lite RX 4 Studio Flash
The D-Lite RX 4 is a one step up in the Elinchrom studio flash family, offering a more robust case with ergonomic handle for harder working with larger accessories. With 400Ws, these units are ideal for small business applications, portraiture and for everyone interested in the most creative lighting. These Swiss designed and tested units will not only give many years of reliable service and pleasure, but also make it extremely easy to upgrade your lighting as your interest and need grows. The Skyport remote control built into the Elinchrom units offers cordless triggering and control of power and modelling lamp from the camera, and control of all functions from many other common devices.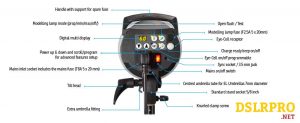 Why Elinchrom D-Lite RX 4?
400 Ws unit offers greater versatility.
Faster recycling for faster work.
Large rubberized business-like handle for easy use of larger accessories.
Elinchrom D-Lite RX Specifications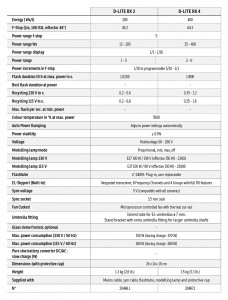 Elinchrom D-Lite RX 4 Features
Skyport delivers the most comprehensive synchronization and control, and it's unique to the whole Elinchrom system. Your creative edge in lighting.
Intelligent pre-flash detector system enables the full use of BRX 250 / 500 with speedlights.
5V sync socket for maximum protection of digital cameras.
Temperature controlled cooling fan.
Visual Flash Confirmation option. The modelling lamp switches off/on to confirm the flash has been triggered.
Adjustable proportionality of the modelling lamp range.
Variable f-stop steps : 1/1, 1/2, 4/10, 1/3, 2/10 or 1/10 steps are available.
Programmable ready beep tone.
The accessory bayonet accepts the complete range of light modifiers.
Centered 7mm (0.27″) umbrella shaft enables also the use of the unique Elinchrom Deflector set.
Stand bracket with additional umbrella fitting for larger umbrella shafts.
User replaceable plug-in flashtube.
Power auto-dump.
Multi-voltage auto-detection: 90-270 V (excluding modelling lamp).